Choosing the best microphone for vlogging is an important step in creating a successful vlog channel. Though the picture quality of your vlogs is a highly important factor, the sound quality is just as important, if not more. Most vlogs rely on speech as the main feature of its entertainment and/or informational value. Therefore, making sure that the sound quality of this speech is audible and pleasant to listen to is one of the easiest ways to improve the quality of your vlog.
The 3 most common types of microphone used for YouTube vlogging are:
1. Lavalier Microphone
Lavalier microphones are very small and they can be attached to your clothes. Most lavalier mics have an omnidirectional pickup pattern, which isn't always good for all senarios but when the mic is close to your mouth they work quite well.
They are really good for vloggers because when you clip them on your clothes they are quite discreet. Also, when you are speaking directly into the microphone it will not pick up too much of the background noises.
If you don't like carrying a big microphone with you, then using a lavalier mic can be quite a good option. The only downside with this type is that you'll need to make sure that everyone speaking in your video has their own microphone.
2. Shotgun Microphone
Shotgun microphones are a unidirectional type of microphone which means that they only capture the sound in front of them and reject any noise from other directions. This helps reduce unwanted sounds, such as people talking behind you or a noisy event going on outside your recording area. They also have excellent quality for crisp recordings that pick up your voice talking even if you're far away.
Many popular vloggers use a shotgun microphones attached to the hot-shoe of their camera. Shotgun mics can also be used as boom microphones, by attaching them with long boom poles that can be positioned in different angles for versatility. Some shotguns come bundled with these boom poles although most will require you buy one separately if needed or desired.
3. USB Microphones
USB microphones are great for using in youtube studios when you want to plug a mic directly into your computer. Here are some example uses for a USB microphone:
Voiceovers
Music
Interviews
Tutorials
Product demos
Gaming walkthroughs
Commentaries
There are a lot of vloggers and YouTubers using USB microphones just for their convenience and ease of use. USB microphones plug directly into your computer with a USB cable and you can record using any audio recording software.
Our Top Picks
11 Best Vlogging Microphones
Lets have a look at these microphones in a bit more detail.
BEST USB MICROPHONES FOR VLOGGING
Best USB Microphones for Vlogging
Audio Technica is both an influential and iconic brand when it comes to studio recording. They are behind the M50X, which has been deemed some of the best headphones for monitoring in a professional setting; Audio-Technica's deep knowledge and expertise can be seen on their AT2020 USB+ microphone, which happens to rank among one of our favorites microphones out there today!
The Audio-Technica AT2020 USB+ is a USB microphone that can be used in your youtube studio setup. It has an excellent frequency response and high SPL handling, making it perfect for recording vocals, musical instruments, or any other audio source. It comes with a tripod desk stand, pop-filter, a protective pouch, mount, and a USB cable.
You won't have to worry about sound quality when you use this mic! It will make sure that all of your videos are crisp and clear so people can hear every word you say without having to strain their ears. If you want better sound quality then this is the product for you!
The best thing about this microphone is that you can monitor the sound in real-time with zero latency. With a headphone jack and volume control, it's perfect for recording audio at home or on location! If you want the best audio quality, always make sure to monitor your recordings while recording. This way you can tell when something is not working and fix it before much time has been wasted.
PROs
Headphone jack with volume control
Cardioid Pattern
Tripod desk stand
Protective pouch
Mount
CONs
Bit more expensive than the other two mentioned in this guide
Audio Technica AT2020 USB+ Verdict
This is one of the best USB microphones out there. The design and build quality are excellent and the audio quality is equally good. It's also a reputed brand in audio recording. If you are going to record vlogs in a studio setup, then this is a really good choice for you.
Check Price & 890 Reviews at Amazon
---
The Blue Yeti USB microphone is a popular choice for vloggers. It's been used by all different types of vloggers and features a triple capsule design that gives you the option to choose between cardioid, bi-directional or omnidirectional modes.
The sound quality is second to none with the triple capsule design. You can use this microphone for almost any situation and with its mute button, headphone jack, and zero latency you will hear your vlog recordings flawlessly!
You can monitor the audio being recorded in real-time by connecting a pair of headphones, so if notice a problem with your audio you can fix the problem while your recording, rather than having to create the video again. It comes with a USB cable and an adjustable stand and is compatible with both Windows as well as Mac OSX.
PROs
Triple capsule design
Headphone jack with zero latency
Mute button
Adjustable stand
CONs
Sound capturing gets a little too much of everything
Blue Yeti Verdict
Overall, it's a really good USB microphone for vloggers. The audio quality is crisp and clear. It is compatible with Windows and Mac. The design and build quality are equally good. If you are going to start vlogging or want to upgrade your vlogging game, then this is a really good choice.
Check Price and 13,374 Reviews at Amazon
---
It is on the lower end of the spectrum of the best USB microphones in terms of price and build quality. For this reason, it's recommended as ideal for starters. With that said — it is definitely a fantastic USB microphone to begin your vlogging career with. The design of this microphone is kind of unique, it features a dual capsule design, giving you the ability to choose between omnidirectional and cardioid mode.
You can use this microphone for all types of different purposes and it works decently in all different scenarios, however, you should keep in mind that it's not the best in every situation.
The cardioid mode is fairly good and you can record good quality audio for your vlogs. It comes with a desktop stand and a USB cable. The overall build quality of this microphone is fair. You will get crisp, clear and distortion-free audio. 

It is compatible with Windows as well as Mac OSX, giving you the versatility of using different operating systems. It is a plug and play device, so you won't have to install any drivers.
PROs
Dual capsule design
Compatible with Windows as well as Mac
Desktop stand
Decent audio quality
CONs
No mute button
Very sensitive in omnidirectional mode
Blue Snowball Verdict
Overall, it's a reasonable quality microphone. It is being used by many starter vloggers on YouTube. It's a simple microphone for recording podcasts and vlogs. It comes with a desktop stand, which is quite sturdy as well. The design and the overall build quality is fairly good. But on the flip side, it picks up everything, which can be a really bad thing if you are not in a silent location.
Check Price & 676 Reviews at Amazon
---
BEST WIRELESS MICROPHONES FOR VLOGGING
Best Wireless Mic for Vlogging
This is, without a doubt, one of the best wireless microphone systems available on the market (in the cheaper price range). It's really compact, easy to set up and has excellent sound quality. If you want a wireless mic kit that is easy to travel with and simple to use then this one might be for you.
Included in the box is a transmitter and a receiver which are both exactly the same when it comes to their size. Both of them have internal batteries that are charged via USB-C and they have around 7 hours of runtime, which is really good.
On the transmitter, there are two blue LED lights signifying power and linked to the receiver. The transmitter also has a built-in microphone which is quite handy for a quick setup. You also get a 3.5-millimeter (non-locking) input, so you can plug in a lav microphone of your choice.
The non-locking 3.5-millimeter input would be my only complaint about this microphone, as there is a risk that the mic could get pulled out. Other than that though I have very little else to complain about. Overall it's a superb compact system.
PROs
Compact
Easy to use
Excellent audio quality
CONs
No locking system on the microphone input socket
Rode Wireless Go Verdict
It's difficult to find a better wireless mic system at such a low price. It's such a compact system which makes it great to travel with and to carry with you all the time. My only slight issue with this system was the non-locking mic input. But I can overlook that really because everything else about this wireless mic system is excellent.
Check Price & 452 Reviews at Amazon
---
BEST LAVALIER & LAPEL MICROPHONES FOR VLOGGING
Best Lavalier Microphone for Vlogging
The Rode Smartlav+ is one of the most popular smartphone microphones out there. It is used by many popular YouTubers. The most prominent feature of this microphone is its excellent sound and build quality. It is made out of premium plastic and metal blend. It feels super-premium and sturdy.
The audio quality of this microphone is excellent, you almost get the same audio quality as a USB microphone. It has an omnidirectional condenser capsule, which means it can record audio from all sides of the microphone. 
It comes with a foam pop shield that will help you in rejecting wind noises and vocal plosives. A mounting clip and a pouch are also included in the box. These lapel microphones are very fragile in nature and having a carrying case is really a good thing.
You won't have to worry about the microphone getting damaged while you are traveling. It comes with a 12 month warranty. This shows us the level of confidence; the company has in its product.
PROs
Broadcast grade audio quality
Foam pop shield
Mounting clip
12-month warranty
Pouch
CONs
Rode Smartlav+ Verdict
Overall it is one of the best smartphone microphones out there. You are getting all the essential features of a good microphone such as great design, excellent audio quality, compatibility across all devices. This microphone is used by most of the popular vloggers and it's highly recommended for beginners as well as professional vloggers all around the world.
Check Price & 1,828 Reviews at Amazon
---
This mic is also an Omni-directional microphone, it's perfectly suited for conversations, interviews, and general speech due to its ability to pick up the voice audio and its inconspicuous design. This microphone is also well suited for instructional vlogs such as tutorials or product demos due to it's small, lightweight design and solid clipping mechanism.
This microphone comes with a 3.5mm mini-plug microphone jack which is suitable for almost any camera with audio input. Though not wireless, the 20ft cable gives plenty enough reach to allow vloggers to film from a distance and can be plugged into a dedicated audio recording device for full freedom of movement. The product also includes a tie clip, a battery, foam windscreen, condenser element, and a 1/4-inch adaptor.
Pros
Cheap and high quality
Small and portable
Inconspicuous
Cons
Battery life lasts around 8-12 months, however, there is no battery life meter
Wired
Audio-Technica ATR-3350iS Verdict
This microphone is a great option for anyone who is new to lavalier microphones and wishes to record interviews, conversations or general speech.
Check Price & 630 Reviews at Amazon
---
This is also a really good choice for vloggers who are just starting out and looking for a good quality microphone. It's omnidirectional, so it will pick up all the sounds of the surroundings. But if you speak directly into the mic at a close distance, it will only pick up your voice.
This mic also comes with a 20-foot long cable, so that should be adequate for most applications. It is compatible across all types of operating systems. The build quality of this microphone is fairly good. It comes with 2 clips, a windscreen, wind muff, and a carrying case.
The addon clips are necessary as over a period of time, either the clips will break or you may lose them. The wind muffs will help you in decreasing the effect of wind on your sound quality, though it will not drastically improve the sound quality.
The carrying case is a must especially for these types of little products. If you don't take care of it properly, it will easily break. So, you can always put the mic in the carrying case and stop worrying about it.
The sound quality is fairly good. The sound is clear, crisp and precise. Though it's not that good when compared to the shotgun microphones. But when compare it to cheaper lapel mics you can really notice the difference.
PROs
Good build quality
Good sound quality
20-foot long cable
Compatible across all devices
Comes with a carrying case, 2 clips, and 2 wind muffs
CONs
Very sensitive microphone
Movo LV1 Verdict
Overall, it's a good option for vloggers who are going to create a lot of videos indoors in their studio or a setup. Because using this type of microphone outdoors is not a good idea, as is omnidirectional it will pick up a lot of background noises. And if you record in a closed environment it will not reflect that much.
Check Price & 305 Reviews at Amazon
---
The main issue with these lav microphones listed above is that they're wired, which may restrict your movement. There are two options for going wireless. Either purchase an audio recorder such as the one reviewed below or you can go for a more expensive wireless lavalier microphone system.
---
BEST ON-CAMERA MICS FOR VLOGGING
Best Shotgun Microphone for Vlogging
The Rode VideoMic Pro is a shotgun microphone that you can mount on your camera if it supports an external microphone. It has a broadcast-quality condenser which has a cardioid pickup pattern. The overall sound quality of this microphone is really good. And it's very portable, the weight of this microphone is just 85 grams; you can easily mount this on your DSLR and vlog all day. Your outdoor vlogs will sound really good when recorded with this microphone.
It has an incredible battery life of seventy hours. This is a huge advantage of this microphone, as you won't have to worry about battery life when using it. It's powered by a 9-volt Alkaline battery. You can keep a couple of 9-volt alkaline batteries with you to be on the safer side while shooting outdoors, and these batteries are dirt cheap.
When shooting vlogs, we always recommend a camera with a really good image stabilization system. Because most of the time you are going to create vlogs while walking or moving, and your vlogs will look shaky if your camera doesn't have a good image stabilization system. The same goes for the microphone, if your microphone doesn't have a good shock mount, the audio won't be of good quality. Here you are getting an integrated shock mount, to protect your audio from getting interference.
The build quality of this mic is really good. It is made out of heavy-duty plastic and looks quite solid. It will last you for a very long time if handled properly. It comes with an integrated windshield. The windshield helps you in protecting your audio against wind when you are shooting outdoors. With the help of the windshield the audio will be clearer and noise-free.
PROs
Integrated shocking mount
Integrated windshield
Long battery life
Lightweight
Good build quality
CONs
Rode VideoMic Pro+ Verdict
It is a really good microphone for vloggers who have a camera with a hot-shoe attachment. The audio quality is incredible and so is the build quality. It has an integrated shocking mount and a windshield. The battery life is excellent too. One negative is it's quite hard to change the batteries, though it's not that big of a deal. If you are going to do a lot of vlogging outdoors, then this is a really good choice for you.
Check Price & 218 Reviews at Amazon
---
This is one of the best shotgun microphones for vloggers. It has a rugged all metal housing. The build quality of this microphone is one of its most prominent features. It feels very solid, sturdy and premium as it's made out of metal rather than plastic. The overall sound quality of this microphone is amazing, it's clear and the reproduction of sound is very good.
It has an integrated shock mount to help you in rejecting the handling and the camera noises. When you record audio with a microphone on top of the camera it will definitely pick up your voice but along with that, it will also pick up the noises your camera makes when you adjust the lens or press a button, it will also pick up the noises which gets created when you move with the microphone. But with the help of a shock mount, all these noises get rejected and only your voice is captured.
It has a very long battery life of about 300 hours. It is powered by only one AAA battery. This is a huge advantage for most vloggers, as you literally don't have to worry about changing the battery for at least a month. You can use it on outdoor shoots without worrying about battery life. And you can also carry a couple of extra batteries with you to be on the safer side.
It comes with a foam windshield, which helps you in rejecting the wind noise. When you are shooting outdoors, wind can be a huge foe. Your audio will sound very bad and it will spoil your video in the end. But with the help of a windshield, you can reverse this situation and create really crisp and clear audio even when shooting outdoors.
It is a very portable and lightweight. If you are going to vlog on a daily basis, it's recommended to have a very lightweight shooting rig. The camera and the mic both should be lightweight and portable so that you can vlog all day without getting tired.
PROs
Metal housing
Shock mount
Long battery life – 300 hours
Portable and lightweight
CONs
Windshield falls off easily
Sennheiser MKE 400 Verdict
Overall this is a really solid microphone for daily vloggers. It's lightweight, has an extremely long battery life, amazing audio quality, solid build quality and a comes with a shock mount and a windshield. Just as a flip screen camera is essential for great vlogging, so is a vlogging microphone like this one that includes such essential add-ons like a windshield.
Check Price & 225 Reviews at Amazon
---
The Audio-Technica AT875R Short Shotgun Microphone is perfectly designed for video production audio acquisition. One of its defining features is that it is one of the shortest shotgun microphones available, making it a great option to use with small cameras. 
This microphone has a uni-directional pickup pattern, with great pickup of uni-directional voice and ambient sounds while rejecting sounds from the sides and rear of the microphone facing direction.
The well-balanced acceptance angle allows for smooth and natural-sounding audio while allowing the focus to be placed upon sound from the front. This microphone is also highly adept at picking up long-range audio due to its narrow pickup pattern angle.
PROs
Specifically designed for video production
Short in length and ideal for compact cameras/DSLR cameras
Minimizes camera and handling noise
Excellent rejection of side and rear sounds
Cons
A separate shock mount must be purchased for mounting on a camera
Does not come with a stand as pictured
The narrow acceptance angle will mean that you must remain facing the microphone during your vlog for your voice to be picked up
Audio-Technica AT875R Verdict
This is one of the best vlogging microphones for anyone out there who is looking to achieve professional-sounding audio for their vlog without having to pay a high price for it. If you are looking to convert this shotgun microphone into a boom mic then you will need to purchase a boom pole such as the On Stage MBP7000 Handheld Boom Pole which is ideally suited for accommodating this type of microphone.
Check Price & 207 Reviews at Amazon
---
The next vlogging mic that I want to feature on this list isn't a shotgun mic, but it's a stereo on-camera mic. I wanted to feature this microphone as a bit of a bonus on this list as a stereo microphone can be useful for capturing more environment and ambient sounds in your vlogs.
Best Stereo Camera Mic for Vlogging
This stereo vlogging mic by Rode has a really good build quality and sturdiness. If you are going to vlog in outdoors environments, then this one is maybe for you. The audio quality is great, it provides broadcast sound quality. The sound is clear, crisp and super precise. The dual cardioid condenser capsules are positioned XY pair, this means that the Stereo VideoMic Pro provides a wide stereo image with natural depth. It will pick up the sound from the front and sides of the microphone while giving you a really good rear rejection.
The battery life of this microphone is around 100 hours and it is powered by a 9-volt battery. As far as battery life is concerned you won't have any problem with it. It will last you for almost a month and you can always carry a couple of extra batteries with you as they are very cheap.
It has an integrated windshield and an in-built shock mounting system. All these features combined provide you that amazing crystal clear audio quality. It does a great job of rejecting background noises while at the same it doesn't sacrifice the main audio at all. Overall providing you a really good sound quality.
It comes with a standard Rode 10-year warranty. It's just great to have a long-term warranty. And this clearly shows the immense confidence of the company in its product. It is very portable in nature and easily mounts on the top of your camera.
While on the flip side it does not feature a battery life indicator. Though, it's not a deal-breaker. But still, you would not have any idea of the battery life this microphone. To be on the safer side you should always carry a couple of batteries with you as you won't have any idea when the battery is going to die.
PROs
Stereo microphone
Good rear rejection
Good battery life
Integrated windshield
Integrated shock mount
10-year warranty
CONs
No battery life indicator
Rode Stereo VideoMic Pro Verdict
Overall, it is one of the best stereo microphones for vloggers. It has incredible sound quality, solid build, long battery life, and integrated shock mount. It comes with a 10-year warranty as well. You won't find a better combination at this price range. If you are a daily vlogger or going to shoot a lot of videos where you are recording atmospheric sounds, then this is one of the best options for you.
Check Price & 261 Reviews at Amazon
---
Why does audio matter?
If you listen to any of the popular vloggers then you will notice one thing in common – Excellent audio quality. I guess it is now becoming a basic standard on YouTube to have the absolute best in terms of audio, it should be clear and crisp with negligible noises.
High-quality audio appreciation is not something that most vlog watchers consciously take into account when watching a video. However, it is likely to impact upon the watcher's unconscious evaluation of the vlog's quality. Therefore it may alter their decision of whether or not to keep watching the videos or subscribe to the channel. As most YouTubers do not appreciate the importance of good audio, this is a great and simple way to set your vlog apart from the crowd.
Why You Should Avoid Built-In Camera Microphones
Most of the popular vloggers never use their camera's built-in microphone, regardless of how expensive and high quality their camera is. Most video-capable cameras come with a built-in microphone, however, due to space and cost constraints, rarely is this the primary focus of the camera's design. Therefore, no matter what camera you have, a microphone or audio recording device is a great investment for your vlog.
Most of these cameras have omnidirectional microphones. Which basically means that these microphones will capture all the sounds in the environment. In conjunction with your own voice, it will also capture the noise of the wind and all of the background noises. This is what makes it a really bad option for our vlogging channel as it will be difficult to hear your voice amongst all the background noise.
Not all cameras come with built-in audio jack outputs and therefore an external microphone cannot be plugged directly into the device. For these cameras, a dedicated audio recorder may be necessary to record high-quality audio.
Dedicated Audio Recorders
Dedicated audio recorders require a little extra work to implement into your vlog, however, they will have a great effect upon the quality of your audio. Dedicated recording devices are how audio is recorded in movies and are the reason why sound clapboards are used at the start of a take. You can create your own sound clapboard by simply shutting a book quickly or clapping your hands, this will help you synchronize the film and audio when it comes to editing your vlog.
Types of dedicated recording devices can include a portable recorder, a smart device or a computer. So if you can't connect a microphone to your camera you can connect it to one of these devices instead.
What Type of Microphones are Best for Vlogging?
Now it is time to discuss the features of different types of microphones and the purposes of these features for vlogging. The most common type of external microphone used for vlogging is the unidirectional type of microphone. These mics usually have a cardioid pickup pattern and are commonly used for interviews in order to only pick up sound from the front side of the microphone.

Conversely, there are also Omni-directional mics these types of microphones are great for picking up ambient sound from all directions. This type of microphone is commonly used for picking up the sounds of a landscape or cityscape (ambient sounds) in order to give a natural representation of the environment. 
For vlogging, the best type of microphone is the Cardioid and Shotgun type. They are unidirectional and record only the audio field directly in front of the microphone.
Conclusion
This concludes our review of the top microphones for vlogging. Having an external microphone in your vlogging rig is extremely important. If you are serious about your vlogging career then you shouldn't think twice about investing in a good quality microphone. Because no matter how great your story is, how great your video is, how great the lighting, how great you are acting; if the audio is not good everything else just won't light up. And on the other hand, if the audio quality is really good it will lift up your whole video.
There are all sorts of microphones for different types of vloggers. If you are going to shoot a lot of vlogs outdoors then you should go for a Shotgun microphone and if you are going to shoot a lot of vlogs indoor then you can choose a good Lavalier microphone. We have listed here the best "bang for your buck" microphones which can be used by both amateur and advanced vloggers.
Most of the people who want to start a vlog would spend so much time on getting the best vlogging camera as per their requirements and taste. But most of the vloggers pay negligible attention to the audio aspect of their vlogs and it's a big mistake. So, we highly recommend you to choose a good vlogging camera along with a good microphone to create really good high-quality vlogs.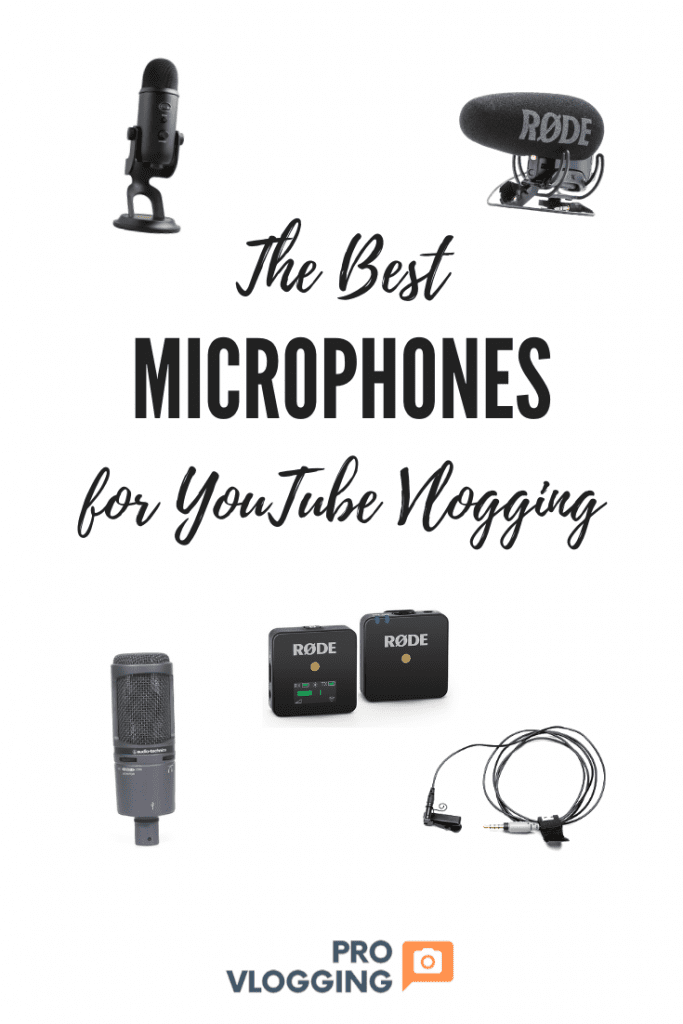 Last update on 2021-09-17 / Affiliate links / Images from Amazon Product Advertising API