So many people want to start vlogging, not just as a hobby but also to make money, but not everyone knows how to start a vlog. So today you are going to learn the 10 step process of how to start a vlog on Youtube. Vlogging is becoming more and more popular by the day, so why not get your vlog started today.
How to Start a Vlog – 10 Easy Steps to Success
1. Preparation
Research
In this first step, I would recommend taking a look at some of your favorite vloggers. Analyze the details of their vlogs a few times.
What catches your attention in what they're doing?
What do they record and how do they edit their vlog?
Do they use an intro and what does it look like?
Do they have music on the vlog?
How long are the videos?
Write down some of the things you like and dislike about each of the videos. This will help you to find out what to do (or not to do) in your own vlogs.
Just remember, it is fine to get inspired by other Vloggers but don't blatantly copy them. You will need to create your own vlogging style!
Define your channel's purpose
The reason why you want to start Vlogging will be a big influence on how you are going to continue later. Maybe you want to become a professional Vlogger and get some income from it or just want to share fun tips with viewers around the world.
If your aim is to become professional then you need to think about how much time you can spend to make the videos since it will determine what you will be able to achieve with your channel.
What is your industry and niche?
To help you to stay focused on your channel content then you should determine your industry/niche. It is better that you pick the one that you are very passionate about.
Who is the audience on your channel?
Try and describe your ideal viewers, it will give you a good idea regarding the target audience of your YouTube Channel.
What are your short and long term goals of your YouTube Vlogging channels?
To give you a great plan of your YouTube channel, you need to write down both your short and long term goals. Ask yourself what kind of success you want to achieve.
2. Create a Youtube Channel
The very first thing I recommend you to do is to create your FREE Youtube channel. You can create your YouTube channel by going here. This is free and only takes a few minutes to set up and you are ready to go.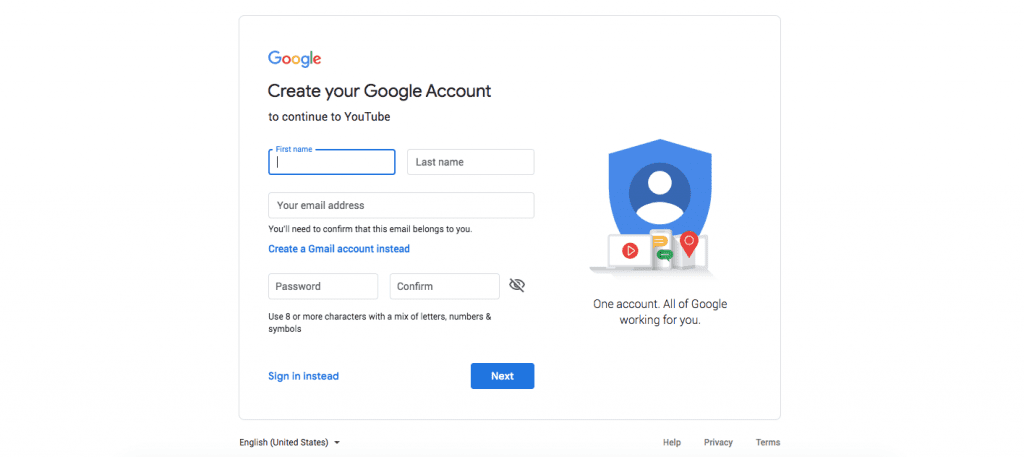 Choosing a Youtube Channel Name
To make people interested when they see your YouTube channel, you should choose a name that stands out and that's unique. You can incorporate the industry or niche in the name, this can help people to find you more easily. After you've decided on a name, search the name on YouTube and Google it to make sure that no one else is using it already.
When you're creating your channel you don't actually have to choose a name for your Youtube Channel straight away, you will be given a generic name/number that you can change later on once your channel starts to get bigger.
3. Equipment
Starting a vlog channel is impossible if you don't have a camera that you can record with. That is why I suggest finding your camera now. Do you have a vlogging camera that you can use? Do you have a smartphone that you can use?
Many new vloggers start by vlogging on their iPhones or smartphones. If you have an iPhone and want to record with that, then do so. Choose your camera wisely though as every camera has different features and functions that can help improve the quality of your vlog.
Another area to think about (if you have enough budget) is buying a microphone this will greatly improve the audio quality of your vlog. You may also want to consider buying a tripod or extra lighting equipment if you need it. A lot of YouTubers start without these last 3 things and they are definitely not a requirement for creating good videos.
4. Prepare Your Vlog Video
Now that you have everything ready for recording your vlog it's now time to think in a bit more detail about what you want to do in your vlogs.
What are you going to do and say in your vlogs?
If you're finding it difficult to come up with video ideas. You can take inspiration from other vloggers and vlogs. If you are feeling really stuck, you can try taking a look at our vlogging ideas list.
Once you have your video topic, you can maybe prepare for the video by writing a script. If you decide to use a script though try not to read directly from the script because as your reading the vlogs can become monotonous and start getting boring.
It might be easier to write down some topics that you want to talk about and some important keywords. This way you won't get tempted to read off the script and you'll still have the basic information that you need to share with your viewers.
5. Start Filming
Now that you have your Youtube Channel setup and your camera is ready to go, it is time to start recording. This should not be a stressful time for you, it should actually be fun and hopefully exciting.
Here are a few tips for filming your first vlog:
Try not to overthink or over plan it too much, just relax. Being spontaneous can be a good thing for vlogging. Start recording and share whatever is on your mind.
Try to get as good audio and lighting quality as you can. Speak clearly and avoid leaving any long silences in your vlog. Try to film the video in daylight or with good indoor lights to give you better image quality.
Interact with your audience: vlogging is a great way to engage with your viewers on a personal level. Try asking questions and getting their opinions. Also, don't forget to reply to their comments, so that they feel involved.
The more vlogs you do the better you'll get, so try to record as much as you can. If you don't like something just delete it. The more video you have the more choice you have in the editing process.
For more tips and tricks, check out our 11 Unique Vlogging Tips for Beginners.
6. Edit Your Vlog
So, you now have some video clips for your vlog? Great, now it is time to edit those clips. We here at Pro Vlogging like to use Final Cut Pro, but that is a paid editing software. What I recommend for you if you are just starting out is to use iMovie (Mac/iPhone) or Lightworks (Windows/Mac/Linux).
Both of these options will do just fine for learning and getting started, but for the most professional vlogs, you should really consider paying for the better software. There are a lot of different options out there for you, so choose the best video editing software for your level.
For more tips on video editing check out our: 13 Vlog Editing Tips for Your Next Video
7. Upload to Youtube
You are almost there, it is now time to upload your video to your Youtube Channel. This is pretty simple, just go to Youtube and click on the upload button or click here.

From here you will select the video that you want to upload and then you will create a title, add a description to your video, add tags (keywords) and you are done. As soon as the video is done uploading it will automatically start to process it and then it can go live.
From here you will select the video that you want to upload or you can drag your video file directly into the upload box.
The video will then start uploading and while it's uploading you can then follow the next few steps to complete your video post. Your video won't go public until you click the 'Publish' button.
Choose a Title for your Video
You can now choose a title for your YouTube video. Your title needs to be under 50 characters long so try to find a title that's catchy and related to your vlog. It's good to have an attention-grabbing but try not to make the title misleading! Viewers often don't like this and will leave dislikes and negative comments.
If you often use misleading titles YouTube might even ban your account for violation of their rules.
Read also: Tips for Video Titles
Create or Choose a Video Thumbnail
You are able to create and upload or choose a thumbnail for your video. The thumbnail plays an important role in someone's decision to click on your video or not so make it visually appealing! The thumbnail that you choose should make people want to watch your vlogs. You can choose to either use a still frame from your video after uploading it or create a custom thumbnail.
One thing to remember though is that all thumbnails need to follow YouTube's guidelines, YouTube can disable your ability to upload a custom thumbnail if you don't follow the guidelines.
Write Your Video Description
The final part of the video uploading process is your video description. The video description helps YouTube find out what your video is about they can then rank your vlog in their search engine.
When writing your description you should aim for between 300 to 500 words and try to include some keywords (don't overdo it though). If you get it it right though it can help you rank higher and get your videos in front of the right audience.
8. Promote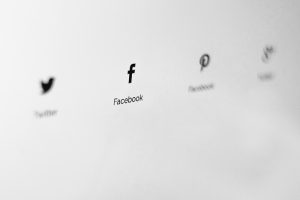 Once your vlog is on Youtube you could be done with it, but I don't recommend that. What I like to do is promote my vlogs like crazy. This means:
Sending emails to my fans
Sharing the video on Facebook
Tweeting the link across Twitter
Posting a short clip on Instagram
and sharing it on my other websites.
By promoting your vlog like crazy it will get a lot more exposure, which usually translates into more views. The more views you can get early on, the faster your channel will grow. You can read more about promotion and getting more vlog views here.
For more tips on promoting your youtube videos check out our guide on how to get more Youtube views & subscribers.
9. How to Make Money Vlogging
Vlogging is fun, but don't you want to get paid to do it? This is where most people make mistakes. First, don't let anybody tell you that you can't make money vlogging. There are so many vloggers out there making a good living wage on Youtube. The reality is that there is ways to make money Vlogging.
Youtube Partner
The most common way to monetize your vlog is to use Google Adsense on Youtube. Now, in order to use Google Adsense and be paid for the ads before and during your video, you must first get approved to be a Youtube Partner.
There are two requirements that you need to meet to become a Youtube partner:
Have more than 4,000 public watch hours in the last 12 months.
Have more than 1,000 subscribers.
Other ways to monetize your vlog
Another way to monetize your vlog is to wear somebody's clothing brand. By doing this that person/company will pay you a set amount of money each month to continue to wear their clothing. The best part about this is that you never have to refer to the brand, just show it off in the videos.
Maybe you have an ebook that you want to sell? If so, then talk about it on your vlog and link to it in the description box. By doing this you are essentially monetizing your vlogs with your own products, which is a great way to ensure that the quality of products are up to your standards. These are just a few examples of how to monetize a vlog, but there are many more ways you can do it too.
10. Repeat The Vlogging Process
Now that you have 1 video recorded, editing, and uploaded it is time to do it all again. You now know what it takes to vlog, so all you need to do is repeat the entire process over and over again. This is the fun part because you can take what you learned while creating your first vlog and make changes.
Now that you know how to start a vlog I want you to remember vlogging is supposed to be fun!

For more info check out our Vlogging Tips for Beginners.