For those of you who are passionate about photography and videography, you want to invest in the best equipment possible. Upgrading your existing hardware helps when you're happy with your device but could use a few boosted features. If you own a DSLR camera, then you can always benefit by upgrading your lens. Most DSLR-type cameras are able to switch out their lenses so you can find the right fit.
However, do note that not all lenses are completely interchangeable across all brands. Some are better suited to specific brands. In many ways, the lens you choose has much more effect on the quality of your video as opposed to the camera body. Moreover, the lens you choose can offer you a lot more control than the camera body. This is because the lens will provide you with key features such as sharpness, background bokeh, aperture, and sharp subject capture, etc.
Here we'll be discussing some of the best non-fish eye lenses you can use for your cameras:
Nikon AF-S FX NIKKOR 16-35mm
The Nikon AF-S FX Nikkor 16-35mm is one of the world's first ultra-wide-angle lenses to feature optical image stabilization. It is designed primarily for use in DSLR cameras and is more budget-friendly than other 17-35mm types. Ultra wide-angle lenses are best able to capture complete pictures of landscapes, cityscapes, and interiors, The Nikon Nikkor 16-35mm offers a remarkably broad focal length range while also increasing handheld steadiness owing to Nikon's VR (Vibration Reduction) image stabilization.
Here is some of the notable features of the Nikon AF-S FX NIKKOR 16-35mm lens:
Nikon VR (Vibration Reduction) II image stabilization, allows for blur-free handheld shooting and stable video capture.
Superior still image and video capturing.
Ghost and Flare reducing Nano Crystal Coat (N) and ultra-fast, ultra-quiet Silent Wave Motor (SWM) internal focusing monitor.
2 ED (Extra-Low Dispersion) glass elements – an optical glass that is able to obtain corrected chromatic aberrations
3 aspherical lens elements for high-resolution quality and sharp image capture
Nano Crystal Coat to minimize internal reflections, perfect for all-day shootings
M/A focusing mode allows for quick switching from automatic to manual focusing with no time lag.
Pricing:
You can get the Nikon AF-S FX Nikkor 16-35mm for $1,099.
Sigma 18-35mm f1.8
The Sigma 18-35mm f1.8 is a great wide-angle zoom lens built specifically for APS-C format standards. Sigma is the first manufacturer to offer an F 1.8 zoom range on its lenses, image quality that until now has only been sound in fixed focal length lenses. The large aperture fixed focal lens is great for expressive bokeh effects and offers ultra-high optical performance.
Here are some of the notable features of the Sigma 18-35mm f1.8 lens:
F 1.8 zoom range maximum aperture
Advanced flexibility and uncompromising performance
0.23 optical zoom capabilities
Wide range of angles of view with just a twist of the zoom ring
F1.8 brightness allows for focusing and composing shots
Shallow depth capture for beautiful bokeh effect
TSC Thermally Stable Composite is used in the construction of the lens for refined, integrated design
Inner Focus System that allows for high-level image quality
SIGMA's Super Multi-Layer Coating offers reduced flare and ghosting to produce sharp and high contrast images
High precision, rugged bayonet mount for exceptional durability of the lens
Rounded diaphragm to produce rounded out of focus light points for a more attractive bokeh effect
Pricing:
The Sigma 18-35mm F1/8 lens is priced at $455-799 depending on the style you choose.
Canon EF-S 10-18mm Wide-Angle IS STM Lens
If you're looking for a more budget-friendly option, then you should definitely check out the Canon EF-S 10-18mm wide-angle lens. It features a compact and lightweight design that once fitted into your camera can offer ultra-wide-angle zoom, adding impact to the landscape, cityscape, and sky you capture. Moreover, the 10-18mm range provides for a wider perspective, capturing more expansive landscapes.
Here are some of the notable features of the Canon EF-S 10-18mm lens:
EF-S ultra-wide zoom lens with an impressive focal length
COmpact design using 4 group zoom optical system
STM (Stepping Motor) docs mechanism and EOS Movie Servo AF function for smooth video recording
Corrected aberration through the aspherical lens elements
Optical Image Stabilizer
Enhanced lens coating for enhanced color balance, reduced ghosting and flaring
Pricing:
The Canon EF-S 10-18mm lens is priced at $178.95.
Rokinon 35mm Cine T1.5 Lens
The Rokinon 35mm Cine T1.5 Lens is one of the best prime lenses you can get on the market. A prime lens is a lens of a "fixed" focal length, unlike a zoom lens. In simpler words, you can't zoom in or out of your shot but there are some major upsides to this. For one, the video and image capture you can get from prime lenses is much sharper than from zoom lenses. They also offer much better low-light performance and are more lightweight, durable, and compact.
The Rokinon 35mm Cine lens is a great option for prime lenses. It offers the perfect focal length you would need for a prime lens and a maximum aperture of f1.5. Pair this with its wide-angle capture and you'll find that the lens is perfect for blogging and YouTube video shooting. You can use the Rokinon 35mm lens with a Canon DSLR or a Nikon, Sony, or Panasonic camera depending on the mount.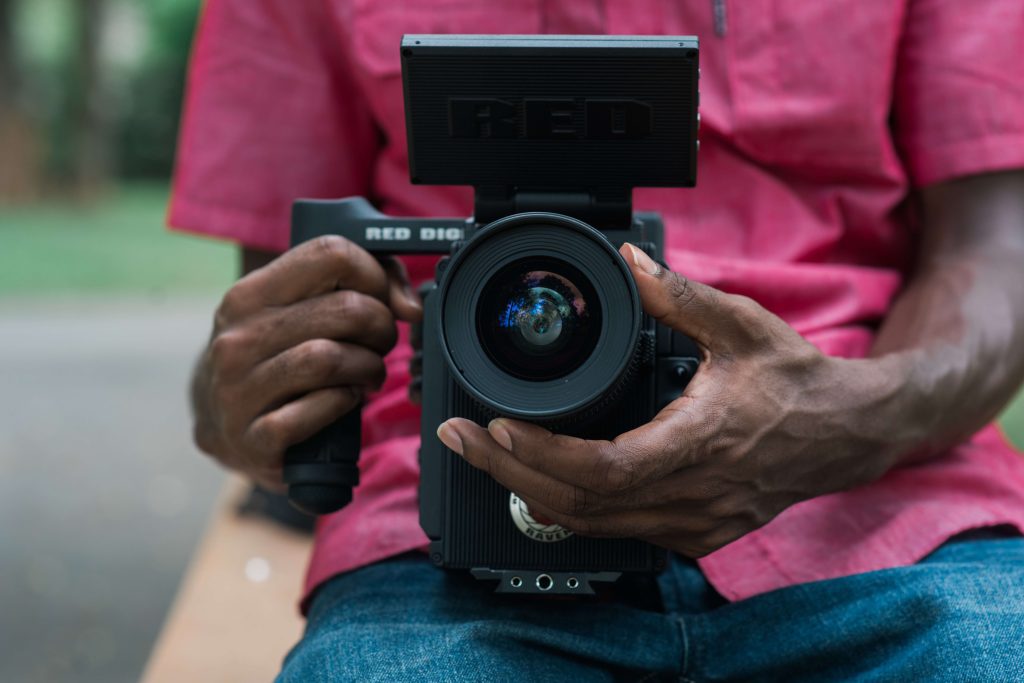 Here are some notable features of the Rokinon 35mm Cine lens:
WIde angle prime lens
Fast T1.5 maximum aperture, perfect for capturing videos in low light conditions
Two high refractive index elements and one aspherical element for reduced chromatic aberrations, sharper video quality, and reduced noise
UMC coating for improved light transmissions, suppressed lens glare, flare and ghosting, and more contrast-rich images
De-clicked aperture for precise, smooth, and silent operations
63.1-degree angle of view on a full-frame camera and 40.8-degree angle of view on APS-C
Pricing:
You can get the Rokinon 35mm Cine lens for $372-$499 depending on the style you choose.