If you want to create the most appealing vlog videos on Youtube then you need to use music. So let us help you find the best music for your vlogs.
Everybody likes to have music in the videos they are watching. Why? Because people can relate to music, they can relate to the lyrics in the songs and the melody of the tune helps bring the story together.
When you're using music for your vlog videos you need to be careful about what music you use.
What background music can I use on my vlogs?
Just because you purchased music as an mp3 does NOT give you the right to add that music to your video as it is probably copyrighted. Instead, use royalty-free music for your vlog videos – unless you don't mind breaking the law.
Breaking the law means that you may have to pay fines. These could be minor fines or just refused the option to monetize your vlogs, all the way to major fines and the shutting down of your Youtube channel. There's also the possibility that the video will stay up, but the music owners will get any profit made from that video.
I don't know about you, but if there's money to be made from one of my videos – I want it to come to me! Be aware that you might be able to fly under the radar for a while – or see someone else that does – but do you really want to risk it?
What is Royalty-Free Music?
Royalty-free, or RF, refers to the right to use copyrighted material or intellectual property without the need to pay royalties for each use or per volume sold, or some time period of use or sales.
Source: Wikipedia
Where to Find Free Background Music for Vlog Videos?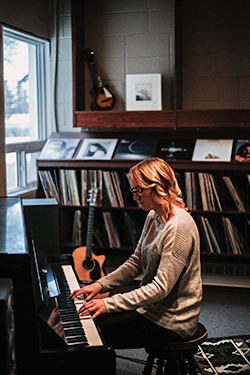 Create your own music
If you're musical you can Create or Record your own Music. Before panicking – think about the fact that you may only really need 5-7 seconds of music for small snippets in your video.
Public Domain Music
It can be difficult to find music written that is old enough to be past the copyright, but it's a good option if you can find them. For more information on music past its copyright see Wikipedia's: Public domain music page.
Find someone to create music
The next best thing might be to have a musical friend that will create something for you, or contact a music group and get permission to use their music. There are lots of new artists that would love the publicity.
Video editing software
Another option is to check your video editing software. They often include music tracks just for you to add to your videos. They really do try to make it easy to edit, as they really want you to use their software.
9 Best Sites for Vlog Background Music
If you can't find music in your editing software that you want to use, or if you've used them till you're sick of them there are other sites like: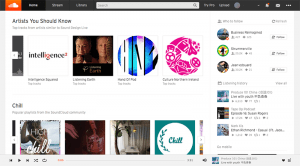 Soundcloud is by far the best music sharing site I have ever come across. The best part about Soundcloud is that you can find songs and melodies that will work for any type of video. Whether you are recording a sad video, one that is supposed to inspire, or one that is very upbeat, this is where you should go to find that type of music.
What most people don't realize about Soundcloud is that it is so big that you might spend hours upon hours looking for the perfect song. Trust me, if you are looking to get a video up quickly and not have to worry about a bunch of options, then don't go to Soundcloud as you will spend too much time here.
There are a lot of songs here to choose from, but you'll need to get the artists' permission to use them on Youtube. Many of these songs require that you put the musician's name and website address into your video description. Even if the song that you choose doesn't require this, I still recommend it as many people watching your videos might want to know what song that was and this is just another way to provide that information without having to post it in multiple comments.
One of the profiles worth checking out on Soundcloud is Free Music for Vlogs.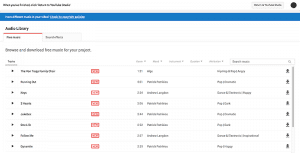 Although this is where most people would look first, I don't like coming here, to begin with. The reason why I like to use Soundcloud first is that they have more music, the tunes are not all the same, and most newer vloggers will never use it.
If you are new to Vlogging, then use Youtube Music Library as it is free, easy to find, and integrated right into Youtube itself. The best part about all of this is that you don't have to waste your time trying to find the sounds that you like, they are right there and it takes only a few minutes to find something that will work.
Caution: When editing in YouTube – read the small print. If you use the music they offer you are not allowed to monetize your video.
As you become a bigger Youtuber and you start to learn new things, the channel grows, and you get more views, then it is time to start expanding on your software. This is where Soundcloud will come in handy.
Many big-name Youtubers use Soundcloud as well, one, in particular, is Casey Neistat.
If you have a bit of money to spend and intend on uploading a lot of videos to youtube then epidemic sound may be a good option for you.
Epidemic Sound is a Swedish based music company with a catalog of over 30 000 tracks, spanning over 180 genres for video creators. They work directly with music creators and composers. If you subscribe to their service you get unlimited access to those tracks to use them how you want in your videos.
They have two main pricing tiers:
Personal: $15 / Month. $144 / Year. – For individuals soundtracking content on their personal channels.
Commercial: $49 / Month. $299 / Year. – For freelancers and businesses soundtracking commercial productions.
You can also license individual tracks with varying prices depending on the use of the music.
Other Royalty-Free Music Sites
You can do a general search for royalty-free music and get lots of results! Here are some cheaper ones I've found.
Incompetech.com has music free with credit.
Danosongs.com has music free with credit.
The Free Music Archive has free music and even movie clips in the public domain, but it does take a bit of digging.
PartnersInRhyme.com has free and a wide range of paid tracks.
Here is a list of free royalty-free music sites.
Most of the music is Classical music and it's all royalty and copyright free.
Royalty-free music can range in price from free to $30 and more. You can get a lot of use out of one music track though by cutting it up and using sections of the song in different places.
Tips on Using Music in Vlogs
Always Use Different Songs
There are a few songs that you can use on a regular basis, but only for certain occasions. Intro and outro music would be one example where you can use the same music on a regular basis.
Why use Different Music?
I would recommend using different songs because it breaks up the monotony of the videos. If you're filming regularly in the same location for example, then things can start to look the same. By wearing different clothes, using different music, and recording with different cameras, it really changes things up. Trust me, having variation in your videos is a great thing.
Turn Down The Volume
I don't want to have to tell you this more than once, but turn down the volume on your music. Yes, the person playing the video could turn the volume down on their device, but this shouldn't stop you from doing it for them. What I recommend is that you turn the volume down on your editing software so that it matches the volume of the rest of the video. By doing this you won't hurt your audience's eardrums, which will keep them happy.
Make Sure It Flows
Have you ever watched a Youtube video that had music in it that just didn't flow with the type of video? This happens all the time and I for one don't like it. Somebody is teaching you how to cook a romantic meal and then all of a sudden they put on a heavy metal rock song, this really throws off the feel of the video. What I recommend is to listen to your clip and make sure that it ties into your video. Don't make this mistake as many people are repelled by this and could potentially stop watching your videos.
Now that you know where to find music for your Youtube Videos and some tips to get you going, get out there and make the best quality videos possible.