When you record your vlog for YouTube then you need to set the lighting equipment so it can help to offer a better look for your videos, especially if the place you want to film is a bit dark. Today, we want to share with you the best lighting setup for Vlogging which you need to have when you want to become a professional Vlogger. Check them out!
Best Vlogging Lights – 5 Types
Having a vlog lighting setup is a must when you want to record a video. Here's some of the best lighting setups for vlogging:
When you shoot a video then you need to set up a video main/key light that can help you to create a more professional look. The most common type of key light used in YouTube videos is LED lights. They can be used as your main lighting set up and most commonly they are placed about forty-five degrees to either side of your camera. After that, you can use the other lighting equipment to support the main light.
One LED light we would recommend for your key light is the Neewer Dimmable Bi-Color LED. This product comes in the form of a panel LED light and can produce powerful lighting. Moreover, since it is equipped with LED lights then it is durable meaning has a long lifespan.
If you have a beauty vlog or you are a professional beauty guru who likes to share makeup tips and such, then this lighting equipment is a must to help you get the best video result. This equipment helps to produce a beautiful soft white look and is perfect if you want to film close-up makeup, such as eye makeup as it creates a really even light.
It's also really easy to set up, all you need to do is put the camera lens in the center of the ring light and then point it towards your face. If you want to know whether your favorite beauty gurus on YouTube are using a ring light setup then you can look into their eyes and you'll see a ring shape reflecting in their eyes. The ring light that we would recommend is the 10″ Selfie Ring Light with 50″ Extendable Tripod Stand, as one of the best budget options when it comes to ring lights.
The best lighting setup for Vlogging when you want to record a video on the go is an on-camera video light. This is a portable light that you can bring anywhere, and thus you can film a video while you're walking around.
When you're first starting a vlog we would recommend that you use the NEEWER 160 LED CN-160 Dimmable Digital Camera Video Light as it's one of the best portable video lights when you're on a budget. You just need to attach it to your camera. This light comes with an LED light panel and it also comes at a very affordable price.
This lighting equipment is made from high-quality nylon and is good to create diffused and soft light during filming. You can set up softboxes either on your front right or front left of you while you're filming. If you have two softboxes lighting, you still may need to install a reflector or backlight because the softbox will make you look flat against the background.
Anyway, one of the best softboxes when your first starting out is the Neewer 700W Professional Photography 24×24 inches/60×60 Centimeters Softbox, it comes with two stands, two daylight light bulbs, and two softboxes. Another product that you may want to consider buying is the HPUSN Softbox Lighting Kit.
After you pick your main and supporting lights for your YouTube Video lighting setup, you cannot leave behind the reflector or diffuser. Why? It is because the reflector will be used to bounce the light (commonly created by the main light) toward your subject or your face. Furthermore, you can use the reflector to fill the shadows that appear because of your main light.
There is various type of reflector such as black reflector which can be used to block the light and you will get more focused lighting, a silver reflector which can be used to create cool looking while the gold color reflector is used to give warmer look.
Another feature on most multi-disc light reflectors is a diffuser, a diffuser is used to soften the light and thus easier for your eyes and commonly placed between the subject and the main light.
One of the best lighting reflectors for vlogging is the Neewer 5-in-1 Collapsible Multi-Disc Light Reflector 43 inches/110 centimeters.
Vlog Lighting Tips
Vlog lighting can be one of the trickiest aspects of making a vlog. Not quite enough and you look scary; a little too much and you look washed out. Lighting can make or break a vlog so it's worth taking some extra time to set up and check. Otherwise, you'll end up re-filming a couple of times because the color is off (and yes, I speak from experience… frustrating experience).
Light Color Temperatures
I want to caution you that using multiple types of lighting can cause a problem.
Example: You have a nice place beside a window to film your video, but it's getting dark so you turn on the lamp too. Depending on the type of light bulb you are using you might have introduced another color of light into the video that can mess up your lighting. You've probably heard of cool vs. warm light temperatures/bulbs, and you probably know that fluorescent light bulbs require different settings on a camera. It can cause problems if you mix those colors/types of lights in a video.
If they are the same type of light it doesn't matter what you use – lamps, construction lights, or fancy video lights. My opinion is to use what you have until you know what you really need.
Here is a Kelvin Color Temperature Chart to give you a better idea of different color temperatures:
3 Point Light Setup for Vlogging
Let's talk about the basics of the three-point light setup. Three-point lighting is a fundamental method you can use when you want to light a subject so that they can easily be distinguished from a flat background.
One of the first things we do in this process is establishing the camera to the subject axis, it's an imaginary line between the camera and our subject that helps guide us in our lighting. We place the key light on one side of the line and the fill on the other side of the line.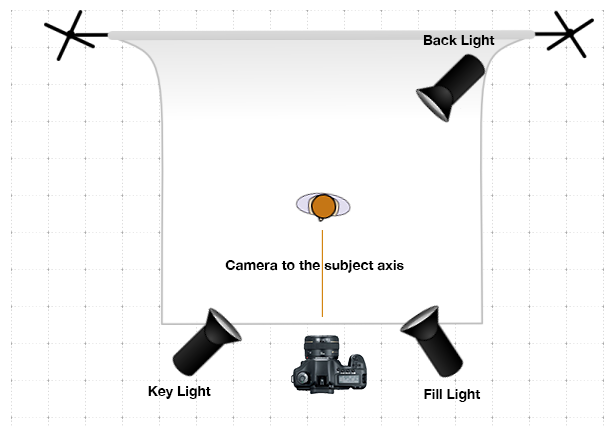 Key/Main Light
First we start with the key light it's the brightest and most important of the three light setup. You can place the key light on the left or the right side of your camera depending on the subject and environment. In the diagram above I've placed it to the left roughly 45 degrees from the subject and at a 45-degree angle above the subject.
The closer you place the key to your camera to subject axis the flatter the look of the lighting. If you move it further away it creates more dramatic shadows on the face.
Fill Light
Next is the fill light, this is a softer light that takes the edge off the shadows cast by our key light, we place the fill close to our camera to subject axis because we don't want to create a second set of shadows on the side of our subjects face lit by the fill light. the difference in intensity between the key and the fill will affect how dramatic we can make our subject look.
Back Light
The backlight separates our subject from the background, a true backlight only lights the back of the head and shoulders but we can also bring it around to create a splash of light on one side of the subject's face, when we do this we call it a kicker. You usually place the kicker on the opposite side of the subject from the key light and further away from the subject.
You want to be careful not to bring it around so far that it interferes with the shadows passed by the key.
Conclusion
This concludes our roundup to the best lighting for Vlogging. Different lighting will create different looks for your videos and if you think the costs of these lights are expensive, then we should tell you that it is definitely worth the investment in good lighting equipment. It will really help your vlogs to look a lot more professional.
Whatever you do – don't give up! Try something, make a video; and then try something else for the next video. In my experience, the lighting has to be checked and tweaked for every video – unless you have a studio in a room with a door where there are no windows, as well as no children or pets to bump into things.
If you want more vlogging tips, check out this other blog post: 12 Vlogging Tips for Beginners